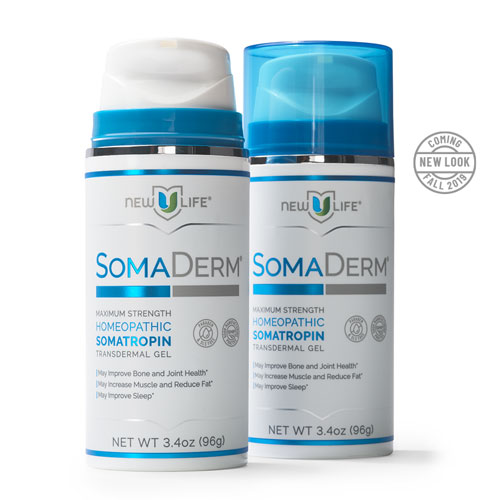 Over 500,000 Bottles Sold in 2018
Airless Pump Bottle Coming Soon for Retail Customers
Available Now In Distributor Packs
Distributor Benefits
Enjoy the lowest price for New U Life products
Earn commissions when you share New U Life with others
Receive a personalized website
Qualify for exclusive New U Life events
Experience the many benefits of New U Life products!
New U Life: Changing Lives
What is HGH Gel?
Human growth hormone (HGH) is available without a prescription in the USA only as a homeopathic product. The best method to deliver HGH into the body is the transdermal method – absorbed through the skin. New U Life's SOMADERM – Maximum Strength Homeopathic HGH Gel – is the only transdermal FDA registered, real human growth hormone product available without a prescription.
Is SOMADERM Safe?
Yes, SOMADERM HGH Gel is safe for men and women over the age of 18. Homeopathic products are considered safe and are legal to be purchased over the counter.
Made in the USA!
100% Satisfaction Guarantee
New U Life stands by its products 100%. If you are not satisfied with your product you may return it by contacting us at [email protected] or calling (925) 274-5000.
Requests for a return/refund must be made within and no later than 60 calendar days from the date of purchasing the product.
Quality You Can Trust
REGULATORY COMPLIANCE
New U Life exclusively uses an FDA registered manufacturing facility and we comply with all FDA regulations. With our extensive experience in regulatory compliance of over-the-counter products, we can advise and assist with all requirements for FDA product indications, label copy, and ingredient listings. We also file the appropriate drug product listing with the FDA for all drug products manufactured for U.S. sales.
PRODUCT CONSISTENCY & RELIABILITY
According to FDA instruction, New U Life documents every step of the manufacturing operation. We consistently produce products by using quality raw materials, applying strict product testing, and by using standardized manufacturing processes with each and every order.
INGREDIENTS
Through our worldwide channel of ethical and reliable suppliers, we are able to acquire quality, raw ingredients. We use a USP state-of-the-art water purifying system for all of our non GMO, gluten free, organic alcohol.
Visit our SOMADERM Gel page for ingredient list.
QUALITY CONTROL TESTING
A quarantine of all inbound raw materials is mandatory until the quality and identity of those raw materials are verified. All raw material suppliers must provide Certificates of Analysis. During the manufacturing process, all water used undergoes microbiological testing in accordance with USP (United States Pharmacopeia) regulations. It is not until an extensive series of product testing is performed before the product is released.
FACILITIES
We use one of a small number of authorized homeopathic manufacturing facilities in the United States. New U Life is registered with and subject to inspection by the Food and Drug Administration (FDA). We follow all current good manufacturing practices (cGMPs) as set forth by the FDA.